What's Next? [ Aug 16, 2019 ]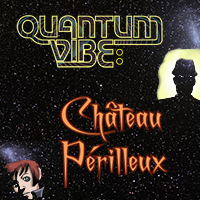 Château Périlleux may have concluded, but Quantum Vibe continues. We're taking a short break, but we will be back in a few weeks with new story. In the meantime, be sure to check back each Monday as we'll have a "break" strip for you to enjoy with announcements about the upcoming Quantum Vibe stories among other things. See ya!
SubscribeStar Update: All Systems Go! [ Feb 11, 2019 ]
The QUANTUM VIBE page on SubscribeStar is now open for business.
Those seeking an alternative to Patreon for supporting Scott and Quantum Vibe, SubscribeStar is another option. Paypal is not available with SubsribeStar, but credit cards are accepted. Plans for accepting crypto-payments are in the works. Stay tuned.
Coming soon: SubscribeStar [ Jan 28, 2019 ]
Scott here.
I'm aware many of my erstwhile Patreon supporters have left the platform altogether, and I'm assuming most of you are upset by Patreon's recent politically-biased culling of "deplorables."
The good news is now an alternative to Patreon is again available, and it is called SubscribeStar. The bad news is this site has received so many applications for accounts that they're behind on verification/approvals.
So, if you like you can go look at my page there (https://www.subscribestar.com/quantum-vibe ) but you can't subscribe just yet. When the approval happens we will make an announcement here.
In the meanwhile, those of you with Bitcoins or Ether can always send me some love at the wallet addresses listed under the big Patreon button.
Thanks and please keep reading.