Qv8 Book and E-Book On Sale! [ Jul 29, 2022 ]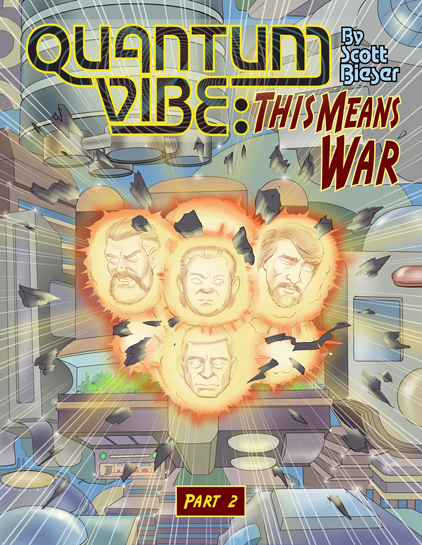 Quantum Vibe: This Means War (Part 2), the 8th volume of the Quantum Vibe saga is now on sale: in print, e-book and kindle. Get your copy now before one of your friends does and then tells you what happens before you read it.
Click on the cover art to secure your very own copy today!
---
Hot Off The Press! [ Jun 26, 2022 ]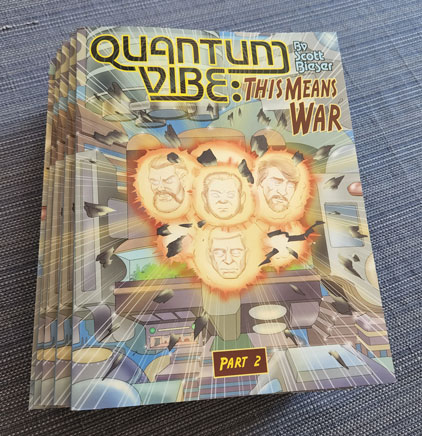 Hey gang! Good news. The books have arrived from the printer.
Over the next couple of weeks, we will be working to get the books signed, and all other perks sorted, organized, and ready for shipping.
Stay tuned for more updates as we get ready to ship. And thanks again to all our donors and patrons who help keep Quantum Vibe going.
---
We Made It! [ Jun 2, 2022 ]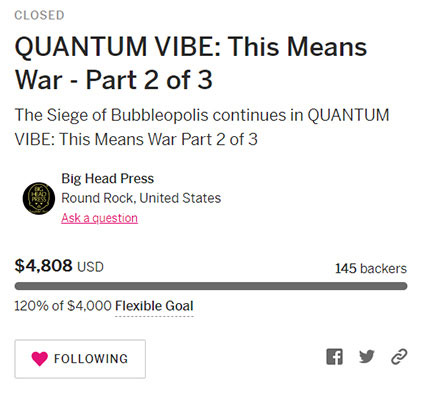 Third try, as they say, is a charm.
The crowdfunding campaign for QUANTUM VIBE: This Means War Part 2 made its goal one day before the closing, and climbed a bit over the top in the final day.
Over the next week Scott will design the back cover and assemble the book pages for printing. We expect to have the printed books (as well as the cards and T-shirts) on hand in the second half of June and will ship them out to backers ASAP.
(The e-book version will also be released by then and we'll announce that date when we have it locked down.)
---
Not Safe [ Apr 24, 2022 ]
Starting Monday 4-25-2022, with part 3 of QUANTUM VIBE: This Means War, each strip installment has been extended to have six panels rather than four. We believe this will enable a smoother, fuller story flow for the reader. We will also be limiting uploads of QUANTUM VIBE to one installment per week so Scott has time to develop a new spin-off strip, Not-Safe.
Not-Safe will be a NSFW strip set in the Assimulation galaxy depicted in Volume 5, with Eithne Lamdagan as the central character. Our hope is it will bring in enough money so Scott can hire a colorist again and he can start producing more QUANTUM VIBE strips. More info coming soon.
---
QV8 Campaign Is Indie-Go-go! [ Apr 18, 2022 ]
Our Indiegogo campaign for part 2 of 3 of Quantum Vibe: This Means War is now live. Perks include the trade paperback, the ebook version, a 10 pack advertising distant future legal services, and a special offer t-shirt supporting the Free Cosmos Project.
The clock is ticking on this 45 day campaign. You do not want to miss out! Click the image or the link below to donate to our campaign and get those sweet, sweet perks.
---
QV8 Indiegogo Campaign! [ Apr 2, 2022 ]
With the conclusion of part 2 of 3 of Quantum Vibe: This Means War, we're ramping up another Indiegogo campaign to print the next volume of the Quantum Vibe saga. Satisfy your OCD by adding this 8th volume to your existing collection! Planned launch date is Monday April 18th. Keep your scanners tuned here, Mewe or Facebook for more updates.