Indiegogo Campaign Launched! [ May 17, 2021 ]
That's right boys and girls. We've fired up an Indiegogo campaign. What's in it for you, you ask? It's to get the next volume of Quantum Vibe to print and ebook form, that's what.
To tempt you further, we have more than just the book planned for donors to receive for their donations, all depending on how things go. The more donors we get, the more extras we can offer. Stay tuned for more announcements!
---
BHP Forum No More [ May 1, 2021 ]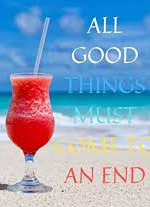 Well folks, it's been 14 years since we started the Big Head Press forum. And there's been a lot of great conversations held there. But, as they do, the times change, and most of the conversations regarding Quantum Vibe and other Big Head Press thoughtful stories have moved on to social media sites like Facebook and Mewe, as well as to the Disqus section on the Quantum Vibe website. With so few participating in the online forum anymore, we decided it was time to retire the forum.
We truly appreciate all the fan support we received there over the years, and hope those stalwart few who continued using the Big Head Press forum will join the rest of us on the other platforms.
Salute!
---
EFT Collection - Almost OUT! [ Apr 20, 2021 ]
If you've been putting off buying your set of Escape From Terra books, it's time to move that pointer to the picture for this blatant advertisement and click. Only a handful of this limited collection left. You don't want to miss out. Order yours today while supplies last!
---
We Now Return You To Your Regularly Scheduled Program. [ Mar 1, 2021 ]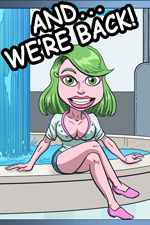 Texas has returned to more normal winter weather conditions, power is back on and Internet connections are working. Which means Scott has new Quantum Vibe strips ready to go this week. We appreciate everyone's understanding and patience as we emerged from hibernation.
And if you haven't already, please help us keep the lights on by buying Quantum Vibe books (in print or digital) along with any of Big Head Press's other thoughtful stories.
---
Updates delayed by Thundersnow [ Feb 21, 2021 ]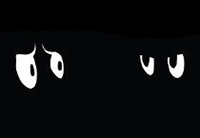 Scott's home and studio were without electric power for three days after the freak winter ice/snow storm hit Texas last week. That plus needing a day to recover and recuperate has eaten up his buffer of strips and put him a week behind schedule. We regret that a one-week pause in uploads is unfortunately necessary.
QUANTUM VIBE will resume uploads on March 1, 2021
---
The Times... They Are A-Changin' [ Jan 26, 2021 ]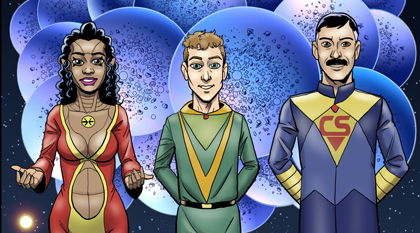 We all know the Pandemic response has thrown a serious damper on the economy, and it has affected Big Head Press and Scott's income, too. So, for the time being we are switching our update schedule to two-per-week, giving Scott time to do more promotional work we hope will boost our readership and income. (Eventually Scott hopes to hire a colorist again so we can go back to more frequent updates.)
On the plus side, Scott will be using that time to generate more art, and .... drum-roll please ... launch a YouTube channel! The channel will be a place where Scott can talk about Quantum Vibe, web-comics, the cultural scene in general, and maybe some politics after we're done being sick of politics. It's also where we will be telling readers all about our up-coming Indiegogo campaign to get QUANTUM VIBE: This Means War Vol. 1 into print. Stay tuned!
New Schedule begins Feb 1, 2021