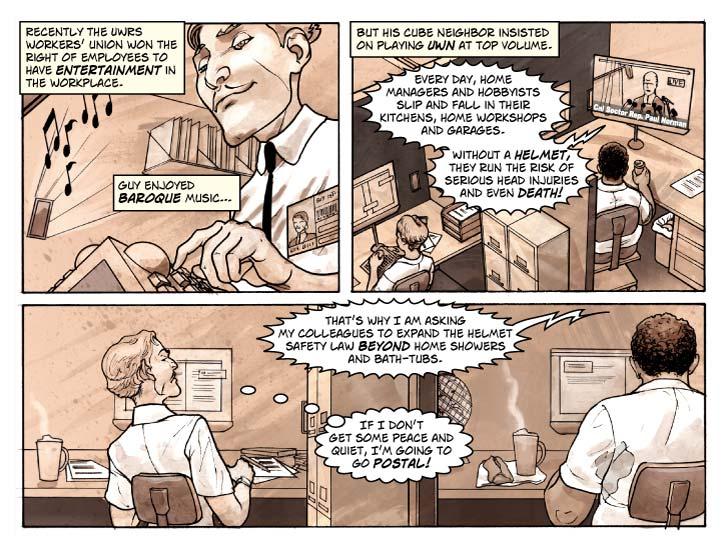 Strip 3 - Click on page above to goto the next page. -- First Seen: 2008-09-26
Escape From Terra is updated with new pages every Monday through Friday.

Roswell, Texas Deluxe Pre-Launch Deal
As we get ready to launch our Roswell, Texas Deluxe Indiegogo campaign next week, we have an early bird deal to offer. If you sign up to our campaign before the campaign starts, you will get a 15% discount on your contribution to help us print 500 copies of the limited deluxe edition of the popular retro-sci-fi comedy romp. By signing up, you will receive updates on the campaign as well.
To sign up for our early-bird special, just go to our Indiegogo Roswell, Texas Rides Again campaign pre-launch page. And stay tuned for more announcements!
Roswell, Texas - Full Color Hard Bound
ROSWELL, TEXAS, the retro-sci-fi comedy romp written by L. Neil Smith and Rex F. May, and illustrated by Scott Bieser and Jen Zach, is getting a new lease on life from Big Head Press. The new deluxe printed graphic novel will be in a full-color, larger format hard-back book, and limited to 500 copies available exclusively through Indiegogo.com, the crowd-funding platform. This new edition will also include an afterward by Rylla Smith, daughter of author L. Neil Smith, who discorporated in late August.>
The crowd-funding campaign is scheduled to commence October 25, ending November 23. Stay tuned for more announcements.

The Transcript For This Page
Strip 3 – That damned noise

Panel 1
Guy touches a button on the corner of his keyboard, and some musical notes flow out of a pair of what looks like playing cards adhered to the cub walls close to him. They are speakers.

Caption: Recently the UWRS workers' union won the right of employees to have entertainment in the workplace. Guy enjoyed baroque music…

Panel 2
Looking at the cubes from above, we can see Fat Slob in the next cube. Fat Slob is sort of the opposite of Guy – personally a mess but keeps a neat cube, as he does as little as possible. He also has a large flat HDTV screen on his cube wall that is running a UWN newscast at high volume. We see some smarmy pol in a suit talking to microphones.

At the bottom of the screen is an ID line for the TV network and the subject as "Cal Sector Rep. Paul Norman" (it's okay if the tag line is not entirely legible at size)

Caption: But his cube neighbor insisted on playing UWN at top volume.

Norman (on HDTV): Every day, home managers and hobbyists slip and fall in their kitchens, home workshops and garages. Without a helmet, they run the risk of serious head injuries and even death!


Panel 3
Medium close-up of Guy looking really, really annoyed.

Norman (continues from last panel): That's why I am asking my colleagues to expand the helmet safety law beyond home showers and bath-tubs.

Guy (small letters, grumbling to himself): If I don't get some peace and quiet, I'm going to go postal!