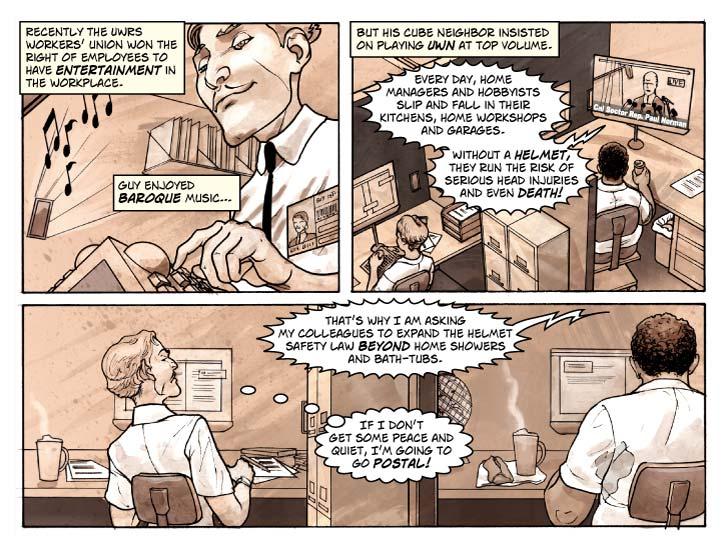 Strip 3 - Click on page above to goto the next page. -- First Seen: 2008-09-26
Escape From Terra is updated with new pages every Monday through Friday.

Quantum Vibe: Château Périlleux Now On Sale!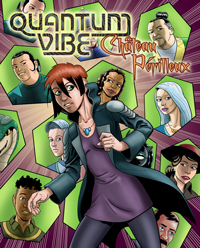 How does a society without a formal government deal with crime and criminal conspiracies? In the far-future space-city known as Bubbleopolis, they do it with a mixture of wit, grit, and a culture based on rolling up one's sleeves and doing what must be done. Diana Martelli, a recent arrival, likes to call it compassionate individualism.
Big Head Press announces the release of the latest graphic novel in the QUANTUM VIBE series: Château Périlleux, in which young Diana is tasked with finding out who killed a supposedly un-killable android -- and uncovers a conspiracy which shakes the very foundations of the city and its culture.
Available now direct from Big Head Press.
Staple! This weekend! Yikes!
Yikes! We almost forgot to tell visitors to the Quantum Vibe page that Scott will be making an appearance at Staple! the indie comics expo, in Austin, Texas this coming weekend, October 12-13.
Scott will be premiering his latest collection of Quantum Vibe strips, QUANTUM VIBE: Château Périllieu. Exclusively available at this show! The trade-paperback will go on sale in other channels soon afterwards.
Sorry for the late notice, hope to see readers there.

The Transcript For This Page
Strip 3 – That damned noise

Panel 1
Guy touches a button on the corner of his keyboard, and some musical notes flow out of a pair of what looks like playing cards adhered to the cub walls close to him. They are speakers.

Caption: Recently the UWRS workers' union won the right of employees to have entertainment in the workplace. Guy enjoyed baroque music…

Panel 2
Looking at the cubes from above, we can see Fat Slob in the next cube. Fat Slob is sort of the opposite of Guy – personally a mess but keeps a neat cube, as he does as little as possible. He also has a large flat HDTV screen on his cube wall that is running a UWN newscast at high volume. We see some smarmy pol in a suit talking to microphones.

At the bottom of the screen is an ID line for the TV network and the subject as "Cal Sector Rep. Paul Norman" (it's okay if the tag line is not entirely legible at size)

Caption: But his cube neighbor insisted on playing UWN at top volume.

Norman (on HDTV): Every day, home managers and hobbyists slip and fall in their kitchens, home workshops and garages. Without a helmet, they run the risk of serious head injuries and even death!


Panel 3
Medium close-up of Guy looking really, really annoyed.

Norman (continues from last panel): That's why I am asking my colleagues to expand the helmet safety law beyond home showers and bath-tubs.

Guy (small letters, grumbling to himself): If I don't get some peace and quiet, I'm going to go postal!